Episodes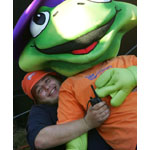 Sunday Oct 28, 2012
Sunday Oct 28, 2012
A talk by Andrew Barry at The Big Weekend 2012 on the topic of 'Resurrection Power in the Life of the Believer'. This talk is entitled 'Is There a Christian Spirituality?' (Philippians 3:4-16, Ephesians 5:8-21) and is the third in the three-talk series. Talk outline:
What are the spiritualities "out there"?
Which ones affect the church?
What activities would be called "Christian spirituality"?
What is Christian "spirituality"?
Is there a difference between Christian "spirituality" and Old Testament spirituality?
Is there a right and wrong approach to spirituality?
How would you respond to this? "I'm not a Christian, but I'm a spiritual person!"
How are you going to live differently in light of what we have discussed?